---
You will enjoy services:
Information Express
"CMRA News Express" English Edition
VIP club will provide members the updated information: recycling metals industries policies, regulations, development situations and trading trend, etc. and send to all members through email.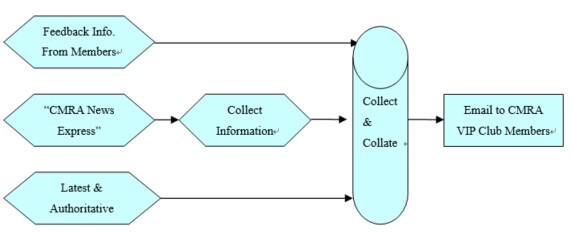 Note:
Foreign Representative Offices can be provided an Circula Economy in Chinese-version.
Latest Industrial Enterprises Directory
VIP Club will provide the most valuable annual updated recycling metals enterprises directory, including contacts and scope of business,etc.

Free to receive an oversea supplier directory or Chinese purchaser directory or equipment manufacturer directory
VIP members can get a complimentary oversea supplier directory or Chinese purchaser directory or equipment manufacturer directory every year.
Business consultation service
Policy-Consultation-Day
VIP members could feedback any problems about some of policies or proposals to CMRA, if necessary, CMRA could invite relevant government departments and to answer the questions through telephone conference or set up a Q&A seminar during CMRA annual convention

Industrial Consultations Service

International Trade Dispute Mediation Service
Coordinate all members to solve international trade disputes, and assist enterprises to conduct safer environment for international trade.Through dialogue, discussion to solve the difference and problem, actively supports and organizes enterprises to respond the trade friction. And set up a credit evaluation system to conducting a free and fair system to evaluate and refer the credit
Assist in contacting visiting enterprise
Regarding to member request, assist in contact Chinese enterprises and to ensure the visiting details.
Recommend intended trade partner
Regarding to member request, recommend intended trade partners that to conduct a success trade platform.
AQSIQ Consultation service
Assist in AQSIQ license new application and renewal.
Supporting Promotion Service
Set up special column of VIP Club on CMRA website and magazine
VIP Club will design and promote the best advertisement for members to expand influences of the members.
Conference Catalogue Directory
If members are unable to attend CMRA convention, CMRA will still print your name and contact details in the conference catalogue.
Design and produce advertisement
Regarding to member request, assist in advertisement design and produce, and through CMRA platform to promote (design fee will be charged).
Industrial Media Press
Regarding to member request, assist members to find industrial media press to promote.
Exclusive promotion (to be charged)
Through APP, CMRA website, email etc. channels to do supporting promotion.
Travel service
Chinese VISA application
Provide invitation letter for members, and assist to do Chinese visa application.
Hotel booking service
Car rental service
Tailor-made Business Activity
VIP Club will provide the best arrangement for spending holidays/business trip in China to visit the great places and view the best scenery.
VIP Special Services in the "Secondary Metals International Forum/Exhibition & Trade Fair
Foreign VIP Club provides a series of preferential and considerable services to members who participate in the annual convention in November organized by CMRA.
–Pre-Convention
Best discount for CMRA convention registration and prior to choose the booth.
–During-Convention:
Travel service. Offer VIP Club member communication equipment as well as office equipment to ensure no barrier working during the convention.
Agency Services: look for potential customers for VIP Club members, arrange meetings and help to invite relevant Chinese government officers.
Hold membership promotion meeting and high-reputation-class promotion.
Regarding to members request, offer VIP-only-seat at front of conference hall to indicate difference identity of VIP Club member.
–After-Convention
Regarding to members' request, feedback annual convention general observation and statistics.
VIP Club will provide members timely feedback about the convention and get to know member's needs and purchasing, report next year's plan and exchange ideas with members.