Invitation Letter
to Attend 2017 CMRA Annual Convention
CMRA Annual Convention (International Secondary Nonferrous Metals Conference and Exhibition) is a platform established in 2000 that devotes to serve the development of global recycling metals industry for 16 years, and concentrates on industrial policy exchange, trade cooperation, technology docking, and intelligence and capital importing. It promotes coordinated development of the industrial chain, and strives to create the most effective annual event for the global recycling metals industry.
2017 CMRA Annual Convention that hosted by China Nonferrous Metals Industry Association (CNIA), and organized by China Nonferrous Metals Industry Association Recycling Metal Branch (CMRA) is going to be held at Shangri-La Hotel in Ningbo from 7-9th November.
2017 CMRA Annual Convention will present global recycling metals industrial latest policy and development trend, new industrial opportunity, development of international market, capacity cooperation & opportunity under "one belt & one road", development latest mode, and hot spot on industrial chain upstream and downstream.
Through keynote reports, seminars, dialogue, exhibition, 2017 CMRA Annual Convention provides zero distance communication and display opportunity for policy makers, administrators, experts, whom can discuss the development issues, market trend and mode innovation etc. together.
2017 CMRA Annual Convention will keep inviting competent authorities like NDRC, MIIT, MEP, and GACC, etc., international industrial organizations like BIR, ISRI, and BMR, etc., elites and experts in domestic and foreign industry, scientific research institutions to discuss the industrial change and breakthrough on the industrial influence, capacity cooperation & opportunity under "one belt & one road", import supervision policy, and environmental requirements etc.
Convention Subject:
Change & Breakthrough
Time & Place:
Time: 7-9th Nov., 2017
Place: Shangri-La Hotel, Ningbo
Registration Fee:
Fee
On-site Registration
Time
Before31 Aug.
After31 Aug.
US$2,000pp
Member
 US$1,300pp
US$1,500pp
Non-member
 US$1,600pp
US$1,800pp
Noting
1.To ensure the conference quality and protect participant's rights, please send your photo as the following standards:–File type: jpg or jpeg–Aspect ratio: 4:3 (width: height ratio)–File size: greater than 2MB and less than 10MB.–Dimensions: minimum 900 pixels wide x 1200 pixels high – maximum 4500 pixels wide x 6000 pixels high.2. The price depend on the area size and location of booth. If you have any question, please contact the Organizing Committee
Contact
Name: Joanne Liu
Tel: +8610-58892065
Mobile/Wechat/Whatsapp: +86-13501099861
Email: cmra@chinacmra.org
Appendix:
1. Provisional Programme
2.Registration Form
3.Exhibition Floor Plan
Organizing Committee
July 13th 2017
Appendix 1:
2017 CMRA Annual Convention Provisional Programme
Agenda
RegistrationTime:08:30-22:00, 7 Nov.     Location:the first floor of Shangri-La HotelCMRA Welcome Reception (by invitation)Time:18:30-20:00 ,7 Nov.
The Opening Ceremony
Time:08:30-08:50, 8 Nov.          
08:30-08:40——Organizer speech
08:40-08:50——Co-organizer Speech
Main Forum – Keynote Report
Time: 08:50-12:00, 8 Nov.       
08:50-09:30China's Current Economic Situation Analysis and Prospect
09:30-10:00New Opportunities for China's Recycling Metals Industry in the "13th-Five Plan"
10:00-10:30Comprehensively Promoting Green Development and Achieve Green Growth in Recycling Metals Industry
10:30-11:00The Interpretation of the New Policy on Solid Waste Importing
11:00-11:30The Current Situation and Regulatory Requirements of Persistent Organic Emissions of Recycling Copper
11:30-12:00The Transformation and Upgrading & Green Development of China's Recycling Metals Industry in the "13th-Five Plan"
Seminar
Breaking the MarketTime:14:00-17:00, 8 Nov.         
14:00-14:30The Present Situation and Trend Analysis of Global Recycling Metals Industry
14:30-15:00The Present Situation of Scrap Metals Utilization in the United States and the influence of New Policy on the Industrial Development of the United States and China
15:00-15:30Market Changes in India and Middle East
15:50-16:00The Capacity Cooperation of International Recycling Metals Industry under "One Belt & One Road" Strategy
16:00-16:30Market Changes and Opportunity of scrap copper import to China
16:30-17:00Panel Discussion: Market Countermeasures and Adjustments of Industrial New Policy
Innovation & ChangeTime: 14:00-17:00, 8 Nov.    
14:00-14:30The Layout of Whole Chain Boosts the Development of Enterprise
14:30-15:00Innovation Model, the Coordinated Development of Online and Offline
15:00-15:30″Internet +" for Breaking the Recycling Metals Industry
15:30-16:00The Analysis on the Utilization Mode of Military Scrap Materials Recycling
16:00-16:30Building a Network System for Recycling Resources Management, and Promoting the Transformation and Upgrading of Enterprises
16:30-17:00Green and Safety Recycling, Building Ecological Circulation Industry Chain for Electrical Appliances
Capital IntegrationTime: 14:00-17:00, 8 Nov.  Undertake by Shanghai Futures Exchange
Green DevelopmentTime: 09:00-12:00, 9 Nov.          
09:00-09:30The Research on Green Manufacturing Mode for Circular Economy
09:30-10:00Green Process Planning and Precious Metal Recycling & Utilization
10:00-10:30The Interpretation on Application and Issuance Guide of Discharge Permit
10:30-11:00The Road of Recycling Resources Creation
11:00-11:30The Green Development Road of Recycling Metals Industry
11:30-12:00Gathering "New Normal" of Recycling Resources Industry in New Era
Appendix 2: 2017 CMRA Annual Convention Registration Form
Company name
Address
Phone
Fax
Contact Person
E-mail
Member type
□ CMRA VIP member       □ Non-member
Type
□dismantling  □processing  □trade  □equipment  □institution  □media  □others
Participant Information
Name
Position
Mobile*
E-mail
VISA-Invitation Letter*
              □ Yes       □ No
*Add my mobile number to the list of participants in conference Catalogue     □ Yes       □ No
*Please send passport copy along with registration form to the Organizing Committee for invitation letter.Where to apply for Chinese Visa?             (Country/City)
Note: To ensure the conference quality and protect participant's rights, please send your photo as the following standards:–File type: jpg or jpeg–Aspect ratio: 4:3 (width:height ratio)–File size: greater than 2MB and less than 10MB.–Dimensions: minimum 900 pixels wide x 1200 pixels high – maximum 4500 pixels wide x 6000 pixels high.
Registration fee ($)
 
Before 30 Aug.
After 30 Aug.
Total
VIP member
US$1,300pp
US$1,500pp
□US$                
Non-member
US$1,600pp
US$1,800pp
□US$                
 Total:            US dollars
Payment
Account Name: Beijing Dynahoo International Expo Co., LtdBank Name: BANK OF CHINA BEIJING BRANCHBank Address: No.2 Chaoyangmennei Dajie, Dongcheng District, Beijing, China, 100010Bank Account.: 3298 6092 0017SWIFT No.: BKCH CN BJ 110Reference:  2017 CMRA Annual Convention fee + Name of the company
Remarks
Consulting for participation, co-organizing, supporting, sponsoring, naming, please contact: cmra@chinacmra.org, +86-10-58892065, +86-13701157181
Note:1. Please email the application form to cmra@chinacmra.org2. The final date for application is Oct. 20, 2017. If you cannot manage your participation due to the force majeure or personal reasons, please contact the Organizing Committee before Oct. 25th, 2017. Otherwise, there will be no refund!3. Please do not fill the form in handwritingOfficial sealDate(dd/mm/yy):
Appendix 3: Exhibition Floor Plan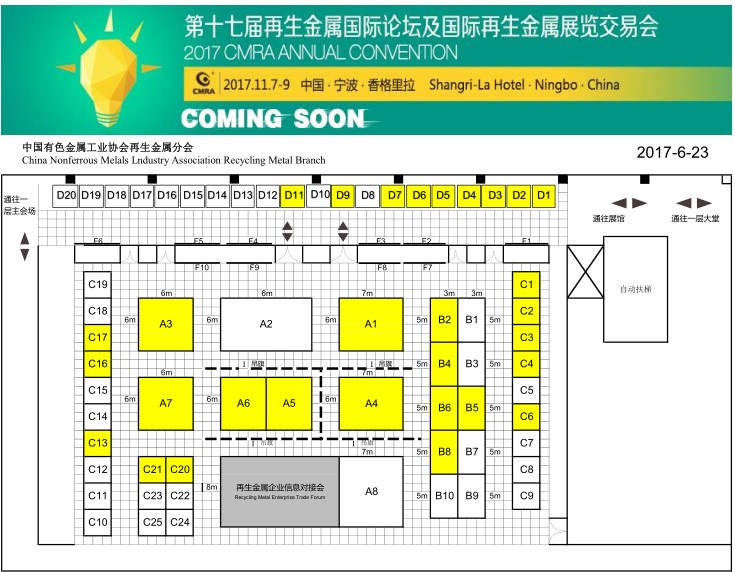 Download: