Invitation Letter
 to Attend 2016 CMRA Annual Convention
The global recycling nonferrous metals industry was instability in 2015, and the Chinese recycling metal market was volatile either that is facing market prices hang upside down, decreased, stopped and closed production and so on. As opinions varied about the industry and market changes of the combination of enterprises, capital operation, and import and tax policy. But the recycling nonferrous metal industry still made a great achievements.
In the first half of 2016, the recycling nonferrous metals industry enlarged the market application, promoted the international cooperation, and implemented the strategy of "One Belt and One Road". In addition to a series policy, including improvement of the electricity and land policy, the support of finance and taxation etc. All these provide great opportunities for the recycling nonferrous metals industry.
2016 CMRA Annual Convention (International Secondary Nonferrous Metals Conference and Exhibition) that organized by China Nonferrous Metals Industry Association Recycling Metal Branch (CMRA) is going to be held at Dongfang Hotel Guangzhou from 7-11th November. Domestic and overseas entrepreneurs, professional agencies and experts join the discussion on the change and challenge, nonferrous metals market, policy environment, inheritance, environment protection disposal, capital and finance and industrial park administration to guide development of the industry.
Forum and Exhibition
Hosted by: China Nonferrous Metals Industry Association (CNIA)
Organized by: China Nonferrous Metals Industry Association Recycling Metals Branch (CMRA)
Schedule
      1) Registration: 08:30-22:00, 7 Nov.
      2) Time for forums: 8-9 Nov.
      3) Time for exhibition: 8-9 Nov.
      4) Time for on-site business visiting: 9-11 Nov.
Location
      1) Hotel: Dongfang Hotel Guangzhou
      2) Address: No.120 Liuhua Street, Guangzhou, Guangdong, China
Content
      1) Interpret development trend
The competent government department of China, Bureau of International Recycling (BIR), Institute of Scrap Recycling Industries, Inc. (ISRI), Bureau of Middle East Recycling (BMR), Japan Association of Aluminum Alloy, Metal Recycling Association of India (MRAI) and lots of institutions and associations will be invited.
      2) Explore new industrial mode
Discuss risk control, investment and financing, and resources integration, etc. to promote transformation and upgrading and steady development.
      3) Share the new experience of industrial development
Share the problem-solving and the feasible solutions on enterprise operation.
      4) Demonstrate the industrial achievements
About 30 enterprises have registered the exhibition already. Shanghai Sigma Metals Inc., Lucky Group, Engitec Technologies S.p.A, Ye Chiu Metal Recycling (China) Ltd, Greenland(America)Inc., Hubei Lidi Machine Tool Co., Ltd, Chongqing Jiantao Aluminum Co., Ltd, Zhejiang Yongkang Listar Aluminium Industry Co., Ltd, Sucden Financial Limited, Ningbo Zhenhai Chuangyi Recycling Resources co., Ltd., Jiangxi Mingxin Metallurgy Equipment Co., Ltd., Jiangsu Gaode Hydraulic Machinery Co., Ltd, K&C International Consulting Co., Ltd, TSI Instrument (Beijing) Co., Ltd., Access Metals Trading Inc., First America Metal Corp., JONO Recycling Technology (Suzhou) Co., Ltd., Hubei Jinyang Metallurgical Incorporated Co., Ltd., Longi Magnet Co., Ltd, Delta Aluminium Industry Co., Ltd., PGI GROUP, JiangXi Wantai Aluminum Co., Ltd, Jiangsu Dongfang Hydraulic Co., Ltd, etc.
      5) Interesting activities and latest information about Recycling Nonferrous Metals Industry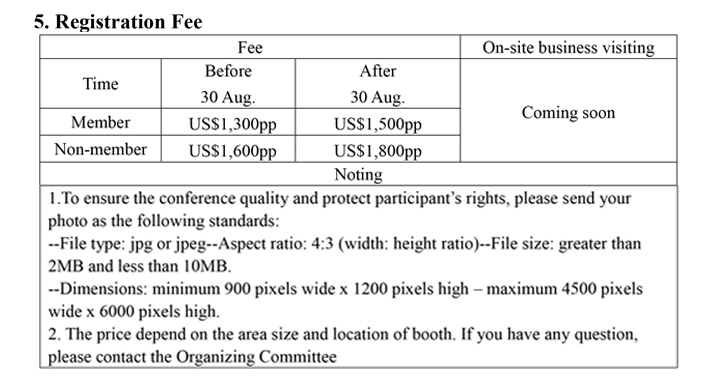 Contact:
Name: Sun Liang, Anna Yu, Joanne Liu
Tel: +8610-58892065
Mobile: +86-13121983530
Email: cmra@chinacmra.org
Website: http://www.cmra.cn/expo16
June 18th 2016
Download